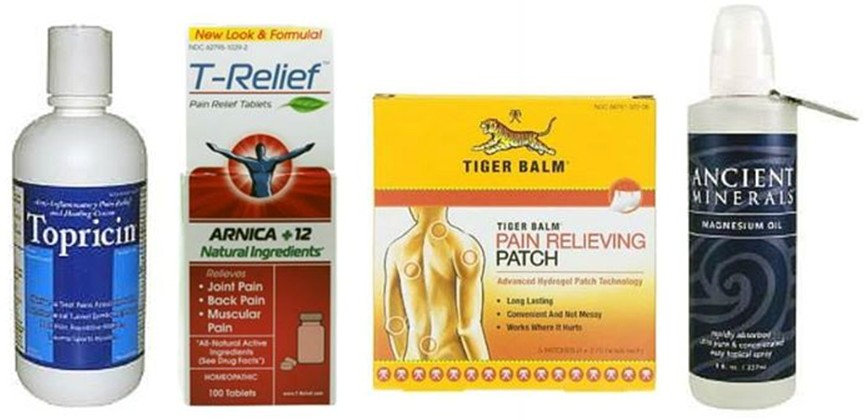 Looking for pain relief products that are safe and contain natural ingredients? Here are four of my favorites. They can all be found at the drugstore, natural food store or online.  Pelvic pain sufferers often will find pain spreading throughout their body, and it's great to have a toolbox of pain relievers to try for less severe flare ups.

Tiger Balm Patch. Tiger Balm is a topical pain reliever made from herbal and plant-based sources. It can be used for joint and muscle pain, as well as headaches and muscle tension. Some women even use it for inflammation and pain of the bladder. I like the patch form because you can stick it over a large area, like the lower back, and leave it on for several hours while the ingredients soak into the skin but are covered, so you don't have to worry about staining clothes or any mess. The active ingredients in the Tiger Balm Patch are menthol, camphor and capsicum oils. Menthol is a compound with analgesic effects that occurs naturally in peppermint. According to MedlinePlus, menthol targets kappa-opioid receptors in the brain, resulting in temporary relief from minor pain. 

Camphor comes from the camphor laurel tree. It has decongestant and analgesic properties. According to the Journal of Neuroscience, camphor works by desensitizing the vanilloid receptor, which plays a role in the brain's detection of pain-causing stimuli. The third active ingredient, capsicum, also known as red pepper or chili pepper, is an herb. The fruit of the capsicum plant contains a chemical called capsaicin. Capsaicin helps lessen pain in part by depleting your body's supply of substance P, a chemical component of nerve cells that is involved in transmitting pain signals to your brain. It also works by de-sensitizing sensory receptors in your skin. So you may smell a bit like a sports locker room, but it's so worth it!
Topricin® lotion.  If you have nerve pain, you may find relief using Topricin. It's a patented homeopathic formula that improves blood flow to the injured tissue and helps in draining toxins and fluids that build up as a result of injury or inflammation. People have reported relief from nerve symptoms like burning, tingling and numbness.  It can be used as often as needed with no interference with other medications.
Magnesium oil. This is one of my favorites and is so essential for much more than just pain.  Magnesium can be taken orally for pain relief as well, but if you have trouble swallowing pills, have impaired digestion or just want an additional way to get magnesium into your body, using it transdermally is a great option. Topical magnesium is especially helpful with pain and can be applied directly to the problem area with faster effect than waiting for it to work its way through your GI tract. One good brand I have used is Ancient Minerals. It's a magnesium oil that contains only raw, ultra pure magnesium chloride and other trace minerals drawn from the Ancient Zechstein Seabed in Northern Europe. One teaspoon contains approximately 560 mg of elemental magnesium. Magnesium is known to reduce muscle tension, lessen pain associated with migraine headaches, and ease fibromyalgia symptoms, among many other benefits. Designs for Health also is a quality brand for topical magnesium. Applying it before bed may help ease you into a more comfortable sleep.
Heel T-Relief Ointment (Traumeel). This is an anti-inflammatory, homeopathic product that comes in over-the-counter petroleum-free gel, tablets, ointment, oral vials and oral drops. It's composed of arnica and 12 other homeopathics and is often used and recommended in place of NSAIDs. If you are in a pain flare you can use both tablets and apply some topically as well.
These are just a few natural products, all of which I have used when having aches and pains. Other great ways to soothe pain are castor oil packs and Epsom salt baths, which I'll be posting on in more detail.